LAHORE: Allama Khadim Hussain Rizvi, the head of the Tehreek-e-Labbaik Pakistan (TLP), passed away at a hospital in Lahore on Thursday after a prolonged illness, just two days after his supporters staged a forceful protest against France in the twin cities of Rawalpindi and Islamabad.
Family sources said that Allama Rizvi, 54, had been suffering from fever for the last few days. Due to high fever and shortness of breath, he was shifted to Sheikh Zayed Hospital Thursday night where he suffered a fatal heart attack.
Video footage showed supporters at the hospital, mourning the death of their leader.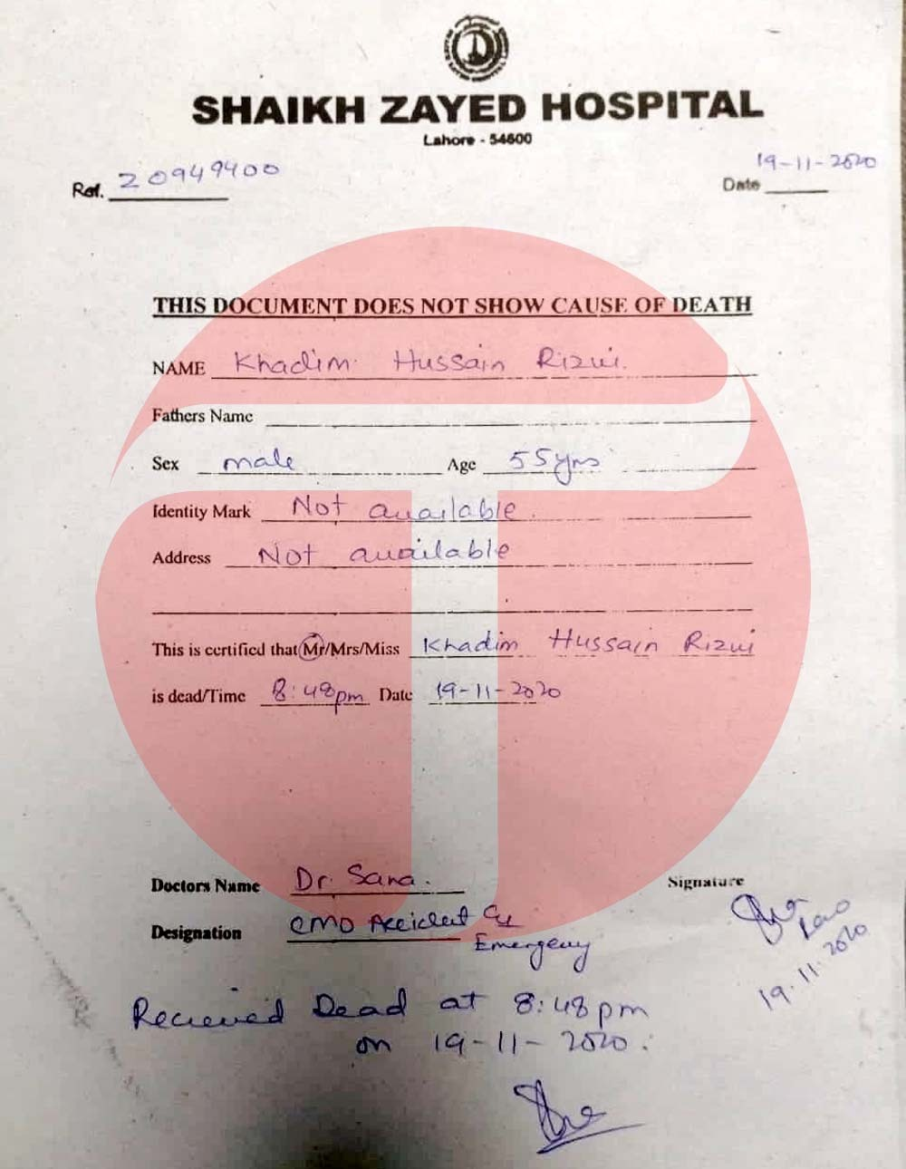 Maulana Rizvi's body was shifted to his residence in Lahore, where a large number of party leaders and supporters had gathered. TLP supporters headed to Lahore in large numbers from other cities as the news of his death spread.
Also read more at Pakistan Networks
Meanwhile, confusion prevailed when people heard that Rizvi was breathing again. However, a TLP spokesperson told the media that the medical staff pronounced him dead when they checked him. Rizvi's son Hafiz Saad Rizvi confirmed that efforts were made to revive his father but he passed away.
Allama Inayatul Haq, Amir of the TLP North Punjab, urged supporters in a video message to continue their journey to Lahore and pay no heed to rumours that the cleric had started breathing. "Quaid-e-Millat-e-Islamia, Allama Hafiz Khadim Hussain Rizvi has passed away," Haq said.
Local TLP officials said that the funeral prayer for Maulana Rizvi will be held at Minar-e-Pakistan ground on Saturday (tomorrow) at 11am.
Allama Rizvi made his last public appearance at a sit-in staged by thousands of TLP followers in Rawalpindi's Faizabad Interchange to protest against the publication of blasphemous caricatures in France. The sit-in ended in the wee hours of Tuesday after successful talks between the TLP and a government team.
Rizvi had reached Faizabad on Monday afternoon. However, Haq and other leaders met the federal government delegation, led by Religious Affairs Minister Noorul Haq Qadri. After reaching the agreement, Rizvi addressed the participants before leaving for Lahore.
Rizvi was born on June 22, 1966 in Nikka Toot in the Attock district. He got his religious education from the madrassas in Jhelum and Dina and later graduated in Dars-e-Nizami from Jamia Nizamia, Lahore.
He is survived by a widow, two sons and four daughters. The eldest son, Saad, 22 is the Naib Nazim of the Tehreek-e-Labbaik and looks after the organisational matters. His youngest son Muhammad Anas Rizvi, 18, is studying Dars Nizami.
Condolences pour in
Condolences poured in from every part of the country on the demise of Allama Rizvi. The religious and political leaders, including Prime Minister Imran Khan and several ministers, paid rich tributes to Rizvi. The religious scholars said that the vacuum created by the demise of Allama Rizvi will be difficult to fill.
Chief of Army Staff General Qamar Javed Bajwa expressed heartfelt condolence on the sad demise of Allama Rizvi, according to the Inter-Services Public Relations.
"May Allah Almighty bless the departed soul in eternal peace," the COAS said.
Foreign Minister Shah Mahmood Qureshi expressed sorrow over the demise of the TLP chief. In a statement, he said: "May Allah bless his [Khadim Rizvi] soul and give patience to the bereaved family and his supporters."
Minister for Religious Affairs Pir Noorul Haq Qadri has expressed deep sorrow and grief over the demise of TLP leaderi. In his condolence message, he prayed for the departed soul.
He said services of the cleric for Islam will be remembered for a longer period.
Punjab government spokesperson Firdous Ashiq Awan also offered condolences on the death of Rizvi.
اِنَّا لِلّٰہِ وَاِنَّآ اِلَیْہِ رَاجِعُوْنَ
سربراہ تحریک لبیک پاکستان علامہ خادم حسین رضوی کی وفات پر انکے اہل خانہ اور چاہنے والوں سے دلی تعزیت کرتے ہیں
اللہ تعالٰی مرحوم کی بخشش فرمائیں اور تمام پسماندگان کو صبر عطا کریں۔ آمین pic.twitter.com/ttaGyxWuIW

— Dr. Firdous Ashiq Awan (@Dr_FirdousPTI) November 19, 2020
Federal Minister for Information and Broadcasting Senator Shibli Faraz also took to the micro-blogging site and condoled the death of the religious leader.
Article Source: Tribune.com.pk