Zong Infinite 2017 Weekly 4g Internet Bundle
Zong Infinite 2017 Weekly 4g Internet giving a super blazing fast 4G Internet connectivity . Weekly offer has launched weekly internet bundle in just 100+Tax weekly.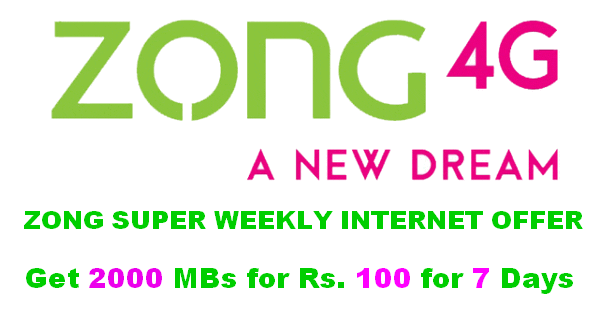 Details:
Name : Super Weekly Offer
Price : Rs. 100 + tax
Volume : 2000 MB
Validity : 7 days
Auto-Renewable : No
This offer is for all Zong 2G, 3G and 4G prepaid subscribers. This offer is not auto renewable you have to subscribe it again. We all recently noticed that Zong has improved their services and coverage in all over the Pakistan. Zong keeps launching affordable and customer needs packages. Zong have valid 4G internet licence.
About Zong:
Zong infinite 2017 has successfully launched 4G internet and providing affordable packages for customers. Every zong user now have access of 4G because of Zong wide coverage area. Zong infinite has built the third largest cellular network in the country. It is Pakistan's second biggest GSM versatile specialist co-op and third biggest portable administration as far as supporter base of more than 25.6 million. It has a piece of the overall industry of 19% among cell administrators in the nation.
How to subscribe Zong infinite offer:
Simply Dial *2#
Internet SIM:
For more packages and updates dont forget to visit us regularly on: